Our "EverGreen" design that never goes out of fashion
Fiberglass (or VTR) is a composite material made of glass fiber and thermosetting resin compound.
Wall thickness can reach section of 10 mm in most critical and reinforced joints. This feature ensures low deformability and very low vibrations and noise.
Smooth surfaces facilitate cleaning, with stabilized finish that can resists even the most aggressive detergents.
High grade of customization is always possible without affecting the final budget.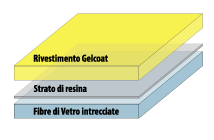 Linear is also available on: