Customization to the maximum of its expression
LMP are galvanised steel sheets, originally coated with thick films of composite materials in PVF. They can be cold-worked for bending or punching with control machines. The finished product is indeformable to temperature fluctuations and the fittings are sealed with special silicone materials. The environment is aseptic and easy to clean using any type of detergent.
It is often used at the same time as VTR for the inner liner lining.
For the most demanding: OMNIA2 to take advantage of the space given by the second sliding door on the SX, which is standard on some engines. Here Omnia expresses the utmost in being able to handle the spaces of the "trauma room" without any restrictions on construction.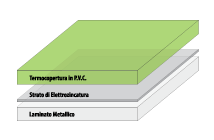 LMP Galvanized Thermo-coated sheet metal
Omnia is also available on: